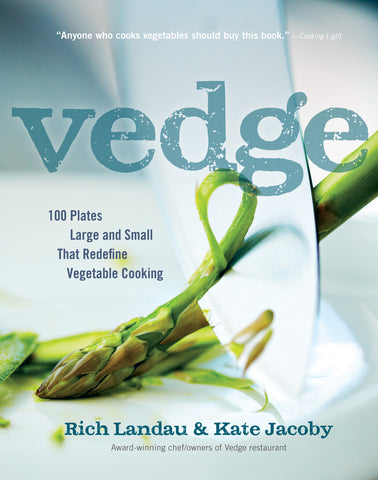 Vedge
The most exciting vegetable cooking in the nation is happening at Vedge, where in an elegant nineteenth-century townhouse in Philadelphia, chef-proprietors Rich Landau and Kate Jacoby serve exceptionally flavorful fare that is wowing vegans, vegetarians, and carnivores alike.

Now, Landau and Jacoby share their passion for ingenious vegetable cooking. The more than 100 recipes here—such as Fingerling Potatoes with Creamy Worcestershire Sauce, Pho with Roasted Butternut Squash, Seared French Beans with Caper Bagna Cauda, and Eggplant Braciole—explode with flavor but are surprisingly straightforward to prepare.

At dessert, fruit takes center stage in dishes like Blueberries with Pie Crust and Lemonade Ice Cream—but vegetables can still steal the show, like in the Beetroot Pots de Crème.

With more than 100 photographs, behind-the-scenes anecdotes, and useful tips throughout, Vedge is an essential cookbook that will revolutionize the way you cook and taste vegetables.