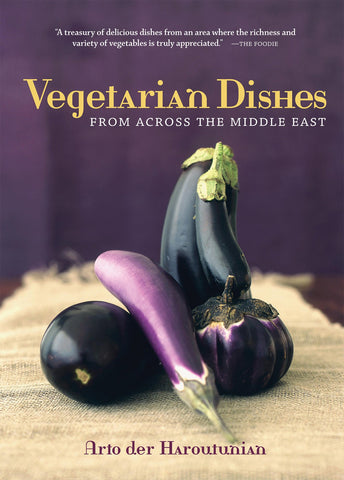 Vegetarian Dishes from Across the Middle East
Here are two hundred and fifty delicious, authentic recipes that showcase the vibrant flavors and healthful variety of vegetarian Middle Eastern cooking.
Vegetarian Dishes from Across the Middle East
—originally published in 1983, out of print for 20 years, and previously unavailable in North America—now reappears as the appeal of vegetarian and Middle Eastern cooking continues to grow.
Author Arto der Haroutunian wrote 12 cookbooks that share with readers his thorough knowledge of and love for Middle Eastern food and of the peoples and cultures from which it developed. Here are dishes from as far west as Albania and as far east as Iran, with tastes from everywhere in between. You'll discover:
Everyday favorites like hummus, tabouleh, Braised Mushrooms, and White Beans in Olive Oil
Fragrant soups and stews, from Lentil Soup ("the most popular and ancient") to refreshing Orange and Lemon Soup
Healthy appetizers and salads, including Eggplant and Avocado Dip, Stuffed Tomatoes, and Spicy Beet Salad
Kookoo and eggeh, the frittata-like baked omelets popular across the Middle East
Bread and pastry recipes, from lavash and pita to baklava and Date and Walnut Cakes
Sweets and holiday treats like Saffron Pudding, Banana Ice Cream, and Rose Petal Jam.