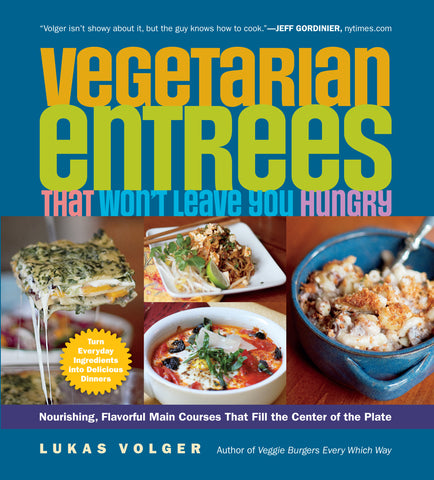 Vegetarian Entrées That Won't Leave You Hungry
Irresistible Vegetarian Entrées That Fill the Center of the Plate!
Vegetarian Entrées That Won't Leave You Hungry solves the riddle that challenges countless cooks every night: What can I make besides pasta, a stir-fry, or a veggie burger—with readily available ingredients and without too much fuss—for a filling and flavorful vegetarian main course?
The 70 main-course recipes here are as wonderfully varied and delicious as those in Lukas Volger's first book, Veggie Burgers Every Which Way. Yet this is food that can be made every day—from pantry and refrigerator staples like grains, beans, noodles, eggs, and tofu, as well as a wide variety of fresh, seasonal produce that will give you tasty options all year round!
Break free of your old dinner routine with easy entrées that coordinate with the seasons like Summer Squash Gratin and Butternut Squash and Brussels Sprouts Galette, recipes that draw on Southeast Asian cuisines like Classic Pad Thai and Kimchi Stew, and inventions that transform everyday ingredients into appealing new flavor combinations like Volger's Curried Potato Crepe Stack. With Vegetarian Entrées That Won't Leave You Hungry, you'll never be at a loss for a new dish for dinner.
Also included are recipes for flavor enhancers and finishing touches—such as croutons, caramelized onions, roasted garlic, pestos, kimchi, and more—and over 15 informative features on "Vegetarian Kitchen Essentials," including Five Salad Dressings, Five Easy Desserts, Cooking for One, and Hosting a Dinner Party.
With over 60 color photos, dozens of variations, "group activity alerts," and helpful sidebars on finer points like perfecting fragrant jasmine rice, homemade paneer, and tofu marinades, Vegetarian Entrées That Won't Leave You Hungry is an indispensable companion for fans of vegetarian main dishes.