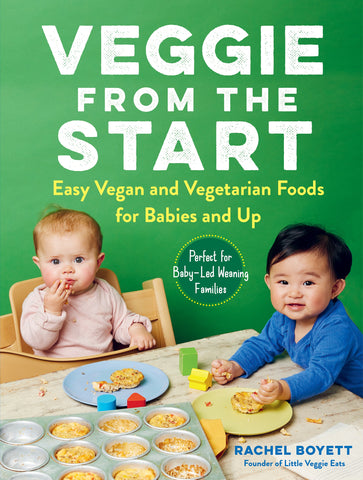 Veggie from the Start
Give your little one the best possible start on solid foods with these vibrant, plant-based recipes for the whole family!

Publisher's Note: Veggie from the Start was previously published in the UK as Little Veggie Eats.

Whether your family is vegan, vegetarian, or just looking to eat more vegetables, Veggie from the Start guides you through starting baby on solid foods—including lots of healthy produce and all the nutrients they need. Little Veggie Eats creator and vegetarian mama Rachel Boyett shares 60 easy recipes complete with food-prep hacks and expert advice to make mealtime enjoyable for all.

Rooted in baby-led weaning (BLW): This popular approach to weaning skips purees to let babies sample real foods and exciting flavors from their first bite. For BLW converts and the curious alike, Veggie from the Start includes age recommendations and tips for meeting baby's unique needs with every recipe.

For dietary needs of all kinds: Rachel's recipes are free of refined sugar and can easily be adapted to a vegan, nut-free, gluten-free, egg-free, and/or dairy-free diet

Cook one meal for everyone: These recipes aren't just for tots—delicious dishes from curries and dips to baby buddha bowls and noodles will satisfy all ages and simplify your life!