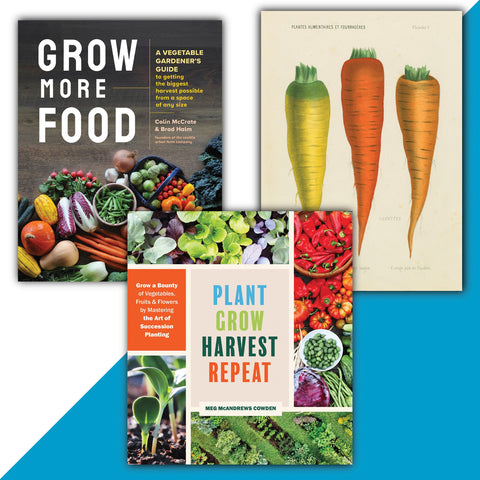 Veggie Gardening Gift Set
Gifts for the gardener (or yourself): books to increase your yield, plus a jigsaw puzzle that celebrates the perfect garden carrot!
 Website exclusive 3-book set.

Expert advice and strategies for cultivating a garden that supplies what you need, Grow More Food boosts your garden productivity. You'll learn how to plan carefully, maximize production in every bed, get the most out of every plant, scale up systems to maximize efficiency, and expand the harvest season with succession planting, intercropping, and season extension.
 
Plant Grow Harvest Repair shows how succession planting—carefully planned, continuous seed sowin—can provide a steady stream of fresh food from early spring through late fall. You'll learn how to layer succession across your perennial and annual crops; maximize the early growing season; determine the sequence to plant and replant in summer; and incorporate annual and perennial flowers to benefit wildlife and ensure efficient pollination. With seasonal sowing charts to inform your garden planning, you can grow more anywhere, regardless of your climate.
 
And celebrate the garden in your indoor hours with John Derian's Three Carrots Puzzle, based on a chromolithographic print from a nineteenth-century botanical guide. Featuring 1,000 interlocking pieces plus a mini-poster (6 3/4" x 9 3/8") for reference or framing. Completed puzzle size: 18 7/8" x 26 3/8".