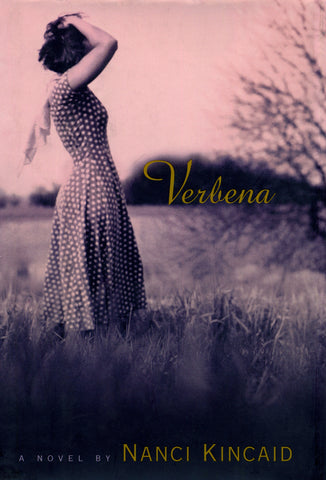 Verbena
Set in contemporary small town America, this is the story of Verbena Martin Eckert McHale ("Bena," for short), an indomitable woman who is damned—but not doomed—by the bad behavior and bad luck of her two husbands.

When Bena's first husband, Bobby Eckert, dies in a car wreck, she's left with their five children, a little mortgaged house, a little bit of insurance, and a big empty place in her heart. Not to mention that the hole Bobby left is jagged around the edges—he wasn't in the car alone and Bena hadn't had a clue about his girlfriend.

So now she's a cheated-on widow with five grief-stricken children to finish raising. No matter. No matter that she almost burns the house down when she discovers the marijuana farm in their backyard or that she has terrible, loud crying jags in church. When it gets down to it, Bena's backbone bends minimally and her moral center holds.

By the time she's ready to invest again in romance, Bena know what she wants. When she finds the right man and the right circumstances, she doesn't hesitate—she marries Lucky McHale. And what does he do? He disappears off the face of the earth.

Verbena is the vibrant story of an extraordinary ordinary woman—strong, emotional, headstrong, sexy, funny—an especially American woman, one worth knowing and cheering.