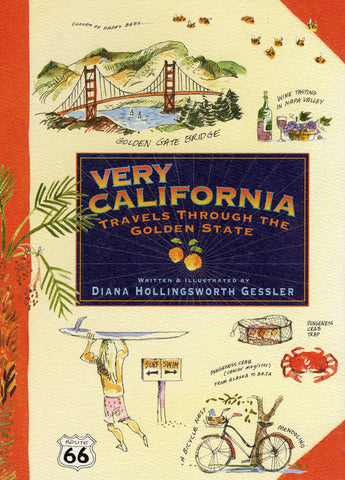 Very California
A fisherman on the Santa Monica Pier. The vineyards of Napa Valley. Surfers in Malibu. An Indian village in Yosemite and the Golden Gate Bridge at sunset. Artist Diana Gessler captures the color and character of our third largest and most populous state. In lively watercolors, sketches, and stories, Gessler shares her adventures on the road, driving from north to south--Sonoma to San Diego and beyond. She and her husband, Paul (designated driver and food lover), stop when curiosity or hunger seizes them.

With pen and brush, Gessler works on the spot, bringing to life the cities, towns, and countrysides as well as the details that make them special. A great horned owl. A local farm stand. A woman making tortillas on a sidewalk cart. A bunkhouse in the redwoods. Crab traps along the bay. Her intimate journal is filled with colorful people, beaches, flowers, architecture, animals, trails, memorable meals, and movie stars (at least the gates in front of their houses).

Very California is organized by region, and each chapter opens with a map and driving route of the area. Peppered throughout are amusing tidbits about all the things that make California so very California. Diana Gessler has created a memento for tourists and an enchanting book for those who appreciate the pleasures of the West Coast.