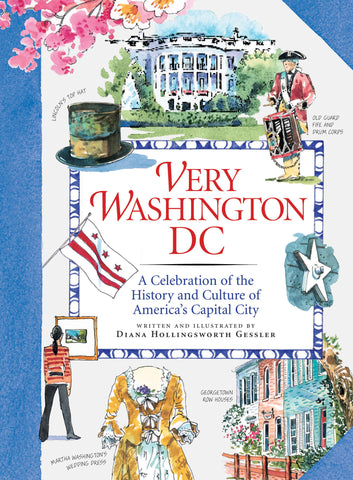 Very Washington DC
A travel guide with character, this fact-filled keepsake offers all the history, beauty, charm, and culture of our nation's capital city. In eye-catching watercolors and detailed sketches, artist Diana Gessler captures the allure that makes Washington DC one of the most visited destinations in the country. In addition to the national landmarks, stirring memorials, and vibrant neighborhoods, there's the Cherry Blossom Festival, the Twilight Tattoo (a military pageant featuring the Old Guard Fife and Drum Corps and the U.S. Army Drill Team), colorful row houses, famous hotels and restaurants, and more museums than you'll be able to visit in just one trip.

Gessler covers the city's most popular attractions but also heads off the beaten path to share hidden gems, like the quirky Albert Einstein Memorial and Eastern Market, where you can dine on bluebucks and browse for flea market finds. Also included are an index of sites and a useful appendix of addresses, Web sites, Metro stops, and phone numbers.

Very Washington DC is a picture-perfect guidebook—a one-of-a-kind memento for tourists and a cherished reminder of the city's riches for those who have always lived in America's hometown.