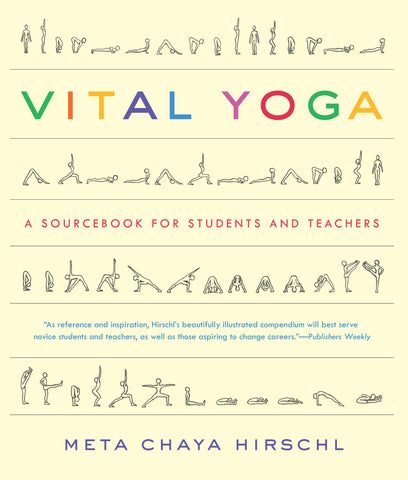 Vital Yoga
From a longtime yoga teacher, this highly visual, broadly informative resource gives serious yoga practitioners a wide-ranging framework that will enrich their practice.


   As any yoga student or teacher knows, there's more to yoga than Downward Dog. Meta Chaya Hirschl's immersive guide offers a complete vision of yoga, from its historical and spiritual roots to modern practice. Whether you are a novice yogi or an experienced instructor,
Vital Yoga
will help you unlock yoga's full potential—and your own.
   Focusing on the traditional eight limbs of yoga, Hirschl covers a wide range of essential topics in three sections: Before the Mat, On the Mat, and Into the World. In
Before the Mat
, you'll learn about the history and philosophy of yoga, with fresh insights into:
• Fundamental texts like the Bhagavad Gita
• The role of vibration in yogic practice
• Mantras for everything from health to job hunting
In
On the Mat
, you'll find practical instructions for every aspect of yoga, including:
• Breathing consciously to guide your vital energies
• Meditating to master and heighten your senses
• Posing with intention, strength, and balance

   And finally, you'll go Into the World. For Hirschl, the true benefits of yoga come not from perfect poses, but from using yoga every day to help yourself and others—so she covers how you can improve your confidence, health, and even your sex life with yoga, and how you can teach others to do the same.
   Throughout, Vital Yoga invites you to delve into the heart of yoga with derivations of Sanskrit terms, "stealth" yoga practices you can do anywhere, wisdom from the great sages, and accounts by contemporary yogis. Its goal is to help you connect to your inner self, transcend fear and attachment to the stresses of life, and achieve bliss—and when you've achieved it, you'll be able to share it.