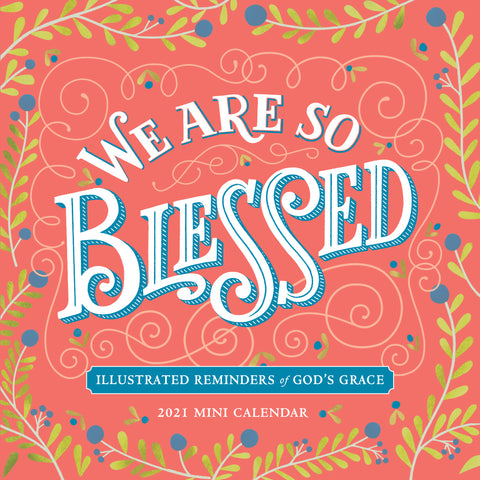 We Are So Blessed Mini Wall Calendar 2021
Artful calligraphy and beautiful illustrations of text drawn from hymns, psalms, popular culture, and the Bible.

Combining unshakable faith with vibrant original graphics that give each message powerful visual and spiritual impact, We Are So Blessed is an uplifting celebration of God's grace. Each month features timeless words of hope, wisdom, and belief gorgeously hand-lettered and illustrated. A serene dove and olive wreath accompany I know the peace-speaker. I know him by name. A heart enhances a mealtime prayer: Bless the food before us, the family beside us, and the love between us. And lively, exuberant lettering reminds us to Rejoice in the Lord always. Boasting a convenient compact format perfect for tight spaces, it's the gift of inspiration.

Smaller than a standard wall calendar, this 7" x 7" mini calendar is perfect for a fridge, cubicle, or any compact space. Printed on FSC-certified paper.