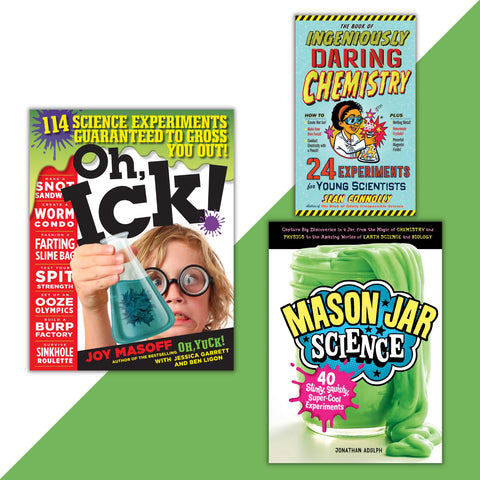 Weird Science Set
Inspire young scientists with lively, hands-on experiments!

Mason Jar Science: 40 Slimy, Squishy, Super-Cool Experiments
The mason jar is a science lab just waiting to be discovered! Here are 40 dynamic experiments for budding scientists ages 8 and up, using a jar and a few ordinary household items. Make slime! Create a tiny tornado! Observe miniature clouds! Turn a jar into a lava lamp, a water prism, a balloon barometer and a compass, and learn principles of chemistry, botany, biology, physics and more.

The Book of Ingeniously Daring Chemistry
An interactive journey through the periodic table of elements, with more than 20 hands-on experiments for kids ages 9 and up! All you need is a sense of adventure and items from around the house: Make your own fossil. Discovery oxygen and oxygenation with a sliced apple. Make a potato clock to harness the power of zinc. Matter really matters, and you'll understand why!

Oh Ick! 114 Science Experiments Guaranteed to Gross You Out!
An A-Z compendium of grossness! Here are 114 interactive experiments and ick-tivities to explore the science behind all things disgusting: make a Mold Zoo to observe how fungi grow. Get to know the creepy crawlies in your home with an Insect Safari. And learn what causes acne by baking a Pimple Cake to pop (and eat!). Eww!