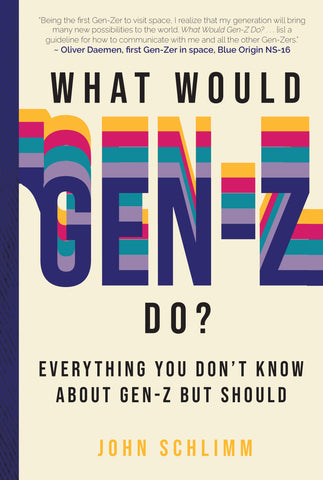 What Would Gen-Z Do?
When interacting with Gen-Zers, whether you be their parent, teacher, coach, relative, neighbor, or anything in between, the generational divide can seem larger than ever. Gen-Zers ignore you, they refuse to turn on their Zoom cameras, they procrastinate, they make strange jokes, they have short attention spans, and they take so many selfies. But that isn't all there is to Generation Z. What Would Gen-Z Do? will help you reach across the generational divide and learn how to navigate your relationships with Gen-Zers.

In this guide to everything Gen-Z, John Schlimm, Harvard-trained educator and Gen-Z advocate, uses his extensive experience in working with the younger generation to offer some insight for anyone who's navigating the Gen-Z universe. In 51 chapters, you'll find quick, relatable lessons and activity ideas that crush the stereotypes and stigmas of Generation Z and shed light on who your Gen-Zers really are—intelligent, compassionate, courageous, and honest future leaders. Love them, appreciate them, and encourage them to rock on!