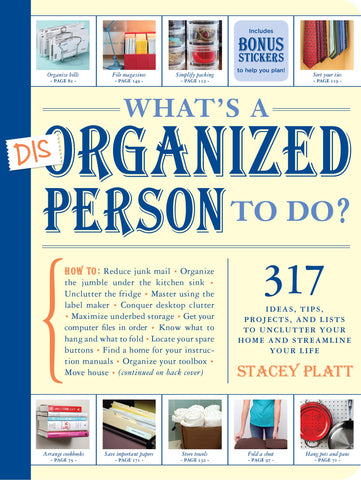 What's a Disorganized Person to Do?
An easy-to-read, idea-packed guide for anyone who wants to be more organized—and who doesn't?

Everyone has overflowing closets and desk drawers, countertops loaded with kitchen gadgets, and overstuffed computer desktops. We dream of getting organized—but what's a disorganized person to do? In this book, professional organizer Stacey Platt comes to the rescue with empowering ideas on putting and keeping things in order.

Like earlier titles in the series, such as the best-selling What's a Cook to Do?, this book offers easy-to-scan and access solutions to everyday aggravations: How do you keep from misplacing your cell phone or house keys? What's the best way to organize the fridge? How do you pack efficiently for a trip? This user-friendly book, illustrated with stylish, full-color photography, is up-to-date on the latest technologies for organizing everything from music to family photos.

Here are hundreds of ingenious solutions for gaining control of clutter so you can live happily in your space. There are quick solutions as well as one-hour projects—from organizing your emails so you can find your passwords to sorting the area under the bathroom sink—that readers can tackle, one weekend at a time, with big payoffs. From the kitchen to the home office, the bedroom closet to the car, this thoughtful guide will help readers carve out more space and more time.