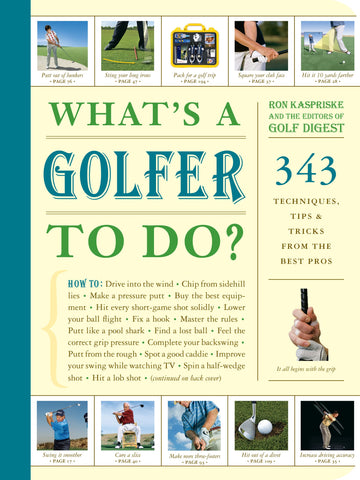 What's a Golfer to Do?
Quick access to the best advice for golfers of all levels.

This richly illustrated handbook is a godsend to anyone who wants to improve his (or her) game—beginners, weekend duffers, and country club regulars alike. Its snappy entries are written by the world's most renowned experts—great touring pros, golf instructors, and the respected writers of Golf Digest. Put it all together with helpful photos and step-by-step instructions and golfers get a treasure trove of guidance to navigate the game and lower their score.

Whether golfers are trying to rid themselves of a wicked slice, have trouble getting out of sand traps or can't shake the yips as they're trying to putt out, here's the wisest advice available. The book also contains concise explanations of the rules of the game and tips on etiquette—including how to play a round with the boss.

What's a Golfer to Do? is packaged in a compact format, so it can be tucked into a golf bag. It is also filled with useful pointers, why-didn't-I-think-of-that tips, and a great dose of golf humor.