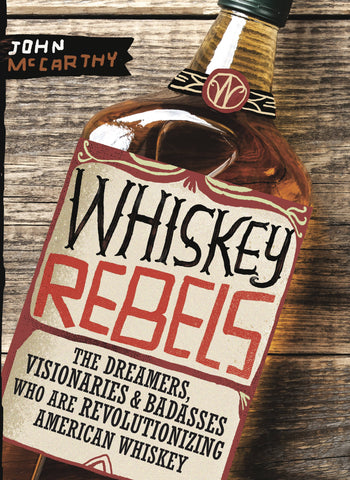 Whiskey Rebels
In 2003, the United States had about 60 craft distillers; today there are over 2,000 in all corners of the country, 500 of which are making whiskey. This book introduces the entrepreneurs and the companies behind this American craft whiskey movement.

Whiskey Rebels is a collection of first-person accounts of the brilliant, brave, and slightly crazy innovators responsible for changing the whiskey landscape forever—people like Ralph Erenzo, recipient of the first distilling license in New York State in 80 years who went on to create Hudson Baby Bourbon; Nicole Austin, a prominent female producer and vocal activist who brought an indie spirit to the renowned American whiskey region of Tennessee through George Dickel Tennessee Whisky; and Bill Owens, who founded the American Distilling Institute in 2003.

Spirits pro and award-winning author John McCarthy (The Modern Gentleman) has conducted hundreds of hours of interviews to gather these fascinating first-person accounts and give readers an amusing and thorough insight into the world of American craft whiskey. Under his expert guidance, readers will also learn the requirements to be considered a craft whiskey distiller, the effect of the craft beer movement on modern craft distilling, why craft distillers hate the word "craft," and many other pieces of insider information.