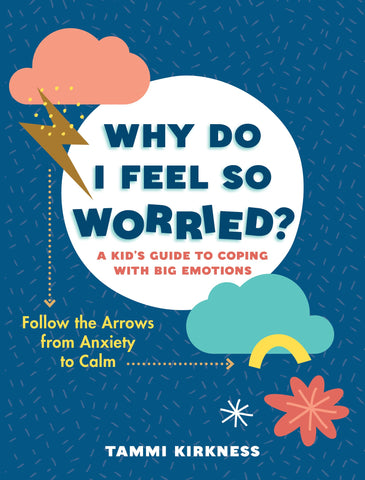 Why Do I Feel So Worried?
Simple yes-or-no questions help kids ages 7 to 12 find the right calming activities for every kind of anxiety
It can be tough for kids with growing minds to work through their worries and self-soothe when they're spiraling. This interactive, step-by-step guide is here to help! In
Why Do I Feel So Worried?,
children can follow an easy-to-use, colorfully illustrated flowchart to . . .  
Name the emotion they're struggling with (like stress)
Figure out its source (for instance, homework problems)
Calm down with an easy activity (such as a soothing script)
Every tried-and-tested strategy—from breathing techniques to meditations, affirmations, and more—offers in-the-moment relief to anxious children. And throughout, notes to caregivers explain the underlying psychology along with how (and when) to offer help.
Kids might not always be able to solve what's worrying them—but they do have the power to help themselves feel better!