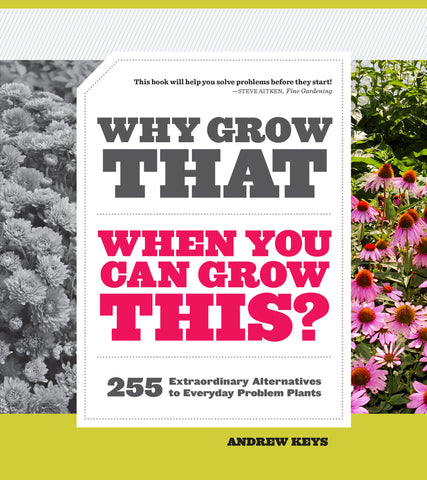 Why Grow That When You Can Grow This?
It's a tired turn of phrase, but the grass is always greener on the other side. And for gardeners, it's not just the grass—it's the flowers, the shrubs, and the trees.
No longer! Pining to grow lilac but lack the full sun? Try the fragrant pink and white flowers of Korean spice viburnum. Love the drama of canna but need something hardier? Try the bold foliage of variegated fleece flower. Why Grow That When You Can Grow This? offers hundreds of all-star alternatives that replace—and often outshine—popular problem plants.
Garden designer Andrew Keys makes it easier than ever to skip over the fussy plant prima donnas and move toward the equally gorgeous understudies. Each profile shows the problem plant and offers three alternatives that include three or more of the original plant's characteristics—hardiness, shape, color, texture, light, and size.
With this fun and accessible guide, you can discover the secret to choosing the plants destined to be the new stars of your garden.