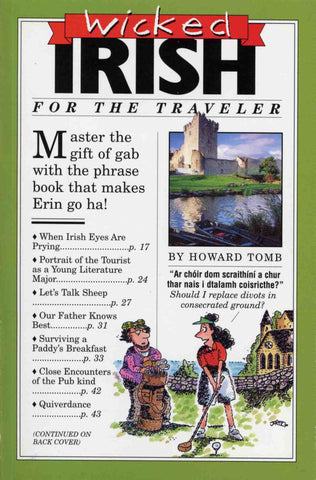 Wicked Irish
Master the gift of gab with the phrase book that makes Erin go ha!

From Dublin on Five Pints an Hour to Genuflection for Beginners, Wicked Irish helps visitors negotiate the nuances of a country where even trees are considered Protestant or Catholic. Learn to flatter customs agents: "'Tis a grand machine you have there, officer!" Politely decline the heavy Irish breakfast: "I've given up pig entrails/congealed blood for Lent." Show appreciation for fine whiskey: "ACK ACK! Mother Mary! That goes down the nun's knickers!" There's even a special section just for golfers: "Should I replace divots in consecrated ground? Am I entitled to relief from this dolmen/ewe/leprechaun? Shite! I don't usually lose a putt in the wind."

Wicked Irish is instant gift of gab, and soon you'll be toasting newfound friends, strangers, barmaids, and even stray dogs with confidence.