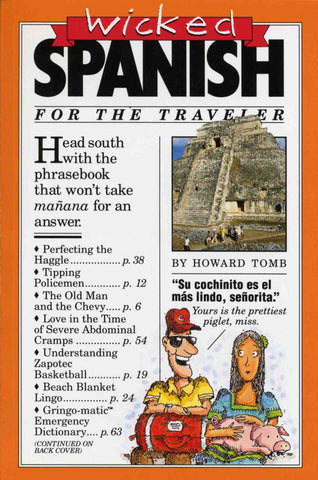 Wicked Spanish
From the sneakily successful travel series with over 1 million copies in print, Wicked Spanish (over 250,000 copies in print) is the devilishly funny pocket-sized guide to language and culture in the land of manana.

From managing epic taxi rides (The Old Man and the Chevy) to Perfecting the Haggle to Tipping the Police, Wicked Spanish anticipates and prepares norteamericanos for a wide range of exotic Latin customs and conditions-also know as que sera, sera.

Explain to your innkeeper that you'd rather have private accommodations: Pero you prefiero un cuarto sin escorpiones. ("But I'd prefer a room without scorpions."). Politely ask your waiter what you're eating: QuS hace immovil dentro del mole? (What lies motionless under the spicy chocolate sauce?). And Mi abuelo perteneci. a un sindicato obrero ("My grandfather belonged to a labor union") may be just the ticket for kidnap victims of revolutionaries.

Once acclimated, you'll make clever cockfight conversation, understand Zapotec Basketball, and even enjoy a cold cerveza with your wife in a friendly men's bar: No la mires. No le hables. No la toques. ("Do not stare at her. Do not address her. Do not touch her."). Above all, you'll learn the real meaning of Vaya con Dios.