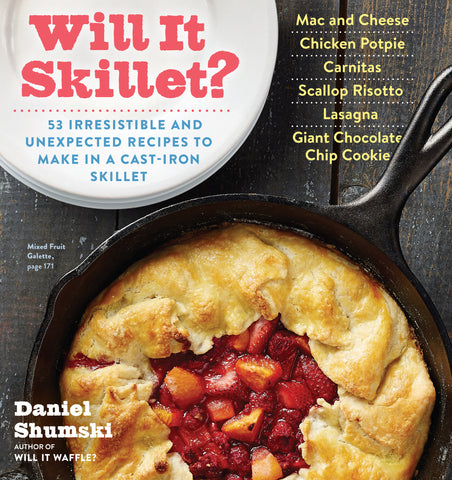 Will It Skillet?
Discover a new world of cast-iron cooking. From Dan Shumski, who last applied his out-of-the-box food-loving sensibility to Will It Waffle?, here are 53 surprising, delicious, and ingenious recipes for the cast-iron skillet.

Savor the simplicity of Toast with Olive Oil and Tomato, because you just can't achieve that perfect oil-toasted crust in a toaster. For Homemade Corn Tortillas, no special equipment required—use the pan to flatten and cook them. (Then serve your tortillas with Single-Skillet Carnitas or Charred Tomato Salsa—or make Chilaquiles.) Take popcorn to another level with clarified butter. Enjoy a Spinach and Feta Dip that stays warm from the residual heat of the pan. Plus pastas that come together in one skillet—no separate boiling required; perfectly charred roasted vegetables; beautiful breads and pizzas; and luscious desserts from a giant chocolate chip cookie to the sophisticated Layered Crepe Torte with Dark Chocolate and Raspberry Jam.

Includes detailed information on buying, seasoning, and caring for your cast-iron skillet—and turning it into a nonstick kitchen workhorse.