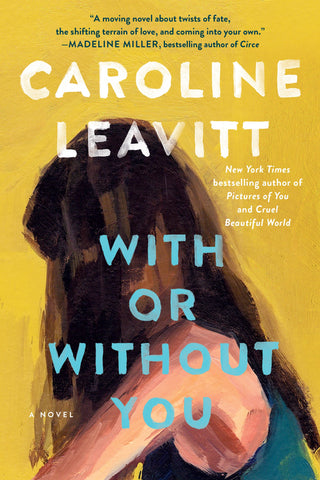 With or Without You
"Leavitt has crafted an irresistible portrait of midlife ennui and the magic of breaking free."
—People

"With or Without You is a moving novel about twists of fate, the shifting terrain of love, and coming into your own. With tenderness and incisive insight, Leavitt spotlights a woman's unexpected journey towards her art." —Madeline Miller, author of Circe

A Best Book of the Month: Bustle * PopSugar 

New York Times bestselling author Caroline Leavitt writes novels that expertly explore the struggles and conflicts that people face in their search for happiness. For the characters in With or Without You, it seems at first that such happiness can come only at someone else's expense. Stella is a nurse who has long suppressed her own needs and desires to nurture the dreams of her partner, Simon, the bass player for a rock band that has started to lose its edge. But when Stella gets unexpectedly ill and falls into a coma just as Simon is preparing to fly with his band to Los Angeles for a gig that could revive his career, Simon must learn the meaning of sacrifice, while Stella's best friend, Libby, a doctor who treats Stella, must also make a difficult choice as the coma wears on.

When Stella at last awakes from her two-month sleep, she emerges into a striking new reality where Simon and Libby have formed an intense bond, and where she discovers that she has acquired a startling artistic talent of her own: the ability to draw portraits of people in which she captures their innermost feelings and desires. Stella's whole identity, but also her role in her relationships, has been scrambled, and she has the chance to form a new life, one she hadn't even realized she wanted. 

A story of love, loyalty, loss, and resilience, With or Without You is a page-turner that asks the question, What do we owe the other people in our lives, and when does the cost become too great?