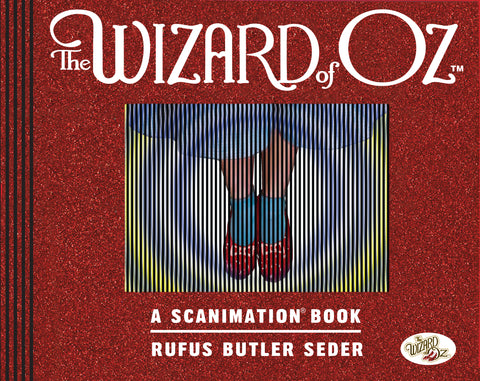 Wizard of Oz Scanimation
We're off to see the wizard! The magic of Scanimation meets the wonderful Wizard of Oz, bringing to life 10 memorable scenes from the movie that's enchanted generations of viewers.  It's the gift book of the fall, and includes:

• Dorothy, the Tin Man, the Scarecrow, the Cowardly Lion, and Toto dancing down the Yellow Brick Road
• Dorothy's farmhouse flying upward in a twister
• Miss Gulch, on her bicycle in the tornado, transforming into a witch on a broomstick
• The Lollipop Kids strutting from side to side
• The Scarecrow doing a wacky dance
• The Tin Man swaying from side to side; Dorothy and the Scarecrow flanking him as if to catch him
• The Wicked Witch of the West waving on a sky full of flying monkeys
• The Wicked Witch of the West melting
• The Great and Powerful Oz—and the man behind the curtain frantically pulling levers
• A close-up of Dorothy clicking her ruby slippers

Like Star Wars before it, The Wizard of Oz is a marriage of phenomenal Scanimation and one of the most beloved movies of all time.  It also continues to be a vital icon: Warner's 2009 release of the 70th Anniversary Ultimate Collector's Edition won DVD critics' and numerous other awards; Warner Brothers Kids just launched wizardofozkids.com; and in 2011, Andrew Lloyd Webber is staging The Wizard of Oz on Broadway.  Now it's found yet new life through Rufus Butler Seder With equal parts love and skill, he's created 10 compelling Scanimations, taking us over the rainbow.

A glittering, ruby-red cover is the final, delectable touch.