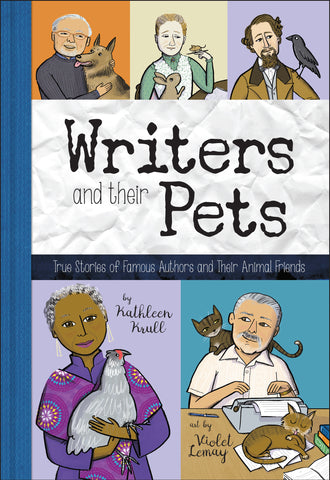 Writers and Their Pets
Discover how animals influenced 20 of the world's most beloved authors, from Charles Dickens to J.K. Rowling.

Did you know that a dog saved Pablo Neruda's life? Or that Mark Twain had a cat named Bambino? Or that Edgar Allen Poe wrote with a cat on his shoulders? Writers and Their Pets tells these stories and many more with playful full-color illustrations that will delight not only children, but also literary experts, history lovers, and animal enthusiasts. Each short chapter focuses on one author's life, using simple and entertaining text to weave tales of the pets that affected the lives and works of these writers, with illustrative artwork sprinkled throughout each page. This title features a diverse list of both male and female international authors, spanning from the 19th to the 21st century, including Beatrix Potter, E.B. White, Elizabeth Barrett Browning, Kurt Vonnegut, Maurice Sendak, Ernest Hemingway, and and more.