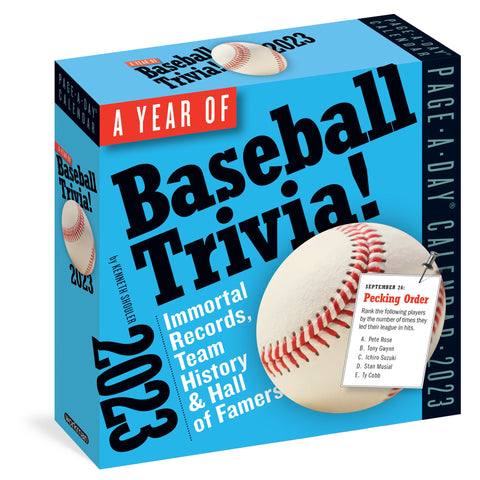 Year of Baseball Trivia! Page-A-Day Calendar 2023
All baseball, all year long.

A Year of Baseball Trivia! hits fanatics with day after day of stats, facts, records, and trivia—plus the personalities, the rivalries, and the joy of being in the stands on game day. Dubious Distinctions: Which two pitchers went from earning Cy Young Awards to leading the league in losses the next year? (LaMarr Hoyt and Rick Porcello.) Who Am I?: "In my sixth year in the league, 1959, I finally got some playing time. I took full advantage, leading my league in home runs despite batting only .242." (Minnesota's Harmon Killebrew.) Plus Immortal Records, Baseball Fun, Did You Know?, and quotes: "I looked for the same pitch my whole career. A breaking ball. All the time, I never worried about the fastball. They couldn't throw it past me. None of 'em."—Hall of Famer Hank Aaron. Printed on responsibly sourced paper and 100% recyclable.