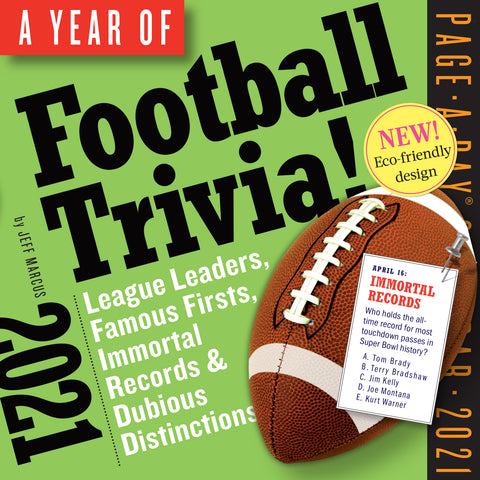 Year of Football Trivia! Page-A-Day Calendar 2021
An adrenaline-pumping calendar featuring a year of stats, records, rivalries, team histories, Super Bowl results, quizzes, and more.

The calendar that lets obsessive gridiron fans relive the record-setting rushes, Hail Marys, triumphant touchdowns, and oversized personalities that make the game great—all while testing their in-depth knowledge of the sport they worship. Packed with stats, facts, and fascinating lore, A Year of Football Trivia! covers the Super Bowl: Who is the only Super Bowl MVP from a losing team? (Chuck Howley.) Immortal Records: Who scored the most touchdowns as an NFL rookie? (Hall of Fame running back Gale Sayers, with 22 in 1966.) Plus Football Families, Notable Coaches, Football and Culture, and football love: Football is my sanctuary. It's where I go to escape. It's where I'm most happy.—Odell Beckham Jr.

Introducing new eco-friendly cardboard backer and larger page size! Printed on FSC-certified paper.