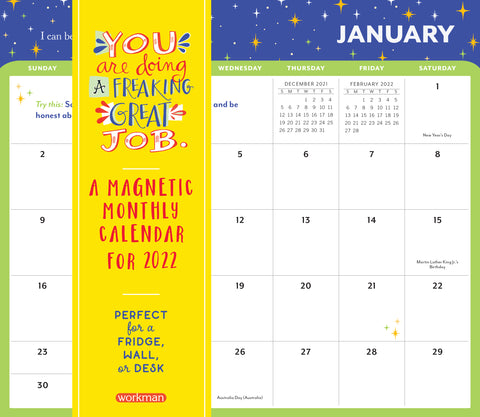 You Are Doing a Freaking Great Job Magnetic Wall Calendar 2022
Beauty meets function in this mood-lifting, creativity-boosting compact and magnetic wall calendar.

You Are Doing a Freaking Great Job delivers a year of upbeat motivation, support, and go-get-'em attitude—in a compact, magnetic format that's a perfect fit for your fridge or wall. "Try This" prompts: Had a professional conflict with someone? Once it's resolved, do your best to let it go. Better yet, try to build a positive experience with them—whether it's checking in on their other projects or asking about their favorite sports team. Mantra Mondays: Your garden will grow if you water it regularly. And quotes: "There are always flowers for those who want to see them."—Henri Matisse. Beautifully designed art enhances the powerful words. Printed on uncoated FSC-certified paper.