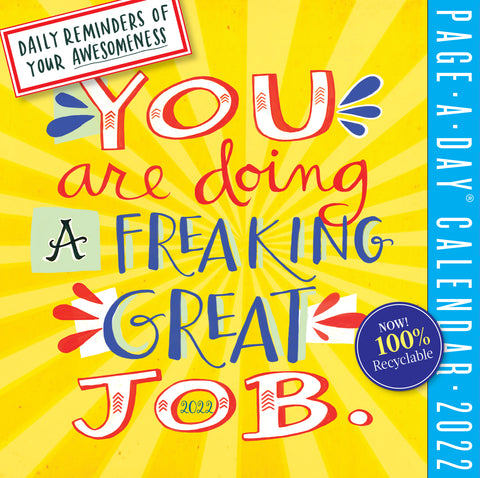 You Are Doing a Freaking Great Job Page-A-Day Calendar 2022
Mood-lifting, creativity-boosting, purpose-affirming motivation, all year long.

It's the calendar of encouragement—every day, You Are Doing a Freaking Great Job will lift you up and keep you motivated with inspiring quotes and sayings, each illustrated with vibrant original graphics that enhance the message. Messages like: "I see you burning that candle at both ends!" "Go home and recharge." "It will get done." (It always does.) Or simply: "Be a friend." Includes self-care tips, goal-setting help, Try This activities, Ask Yourself prompts, and Mantra Monday: No matter the task, I will perform it with integrity and care. Every entry is a breath of fresh positivity. Now 100% recyclable and printed on FSC-certified paper.