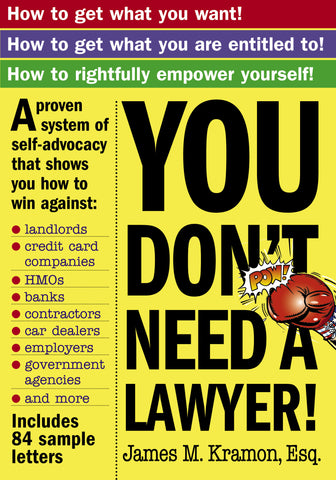 You Don't Need a Lawyer
Don't sue. Write. In a world where it's every consumer for himself, this guide to successful self-advocacy shows how to make a letter your own court of law. And how to avoid the time, expense, and hassle of litigation.

• It is all about the money. Drawing on over thirty years of success representing clients who share the same problems and frustrations as the rest of us, James Kramon knows exactly how to push the right buttons. He shows readers:
1) How to determine exactly what you want. 2) How to determine what your opponent might want. And 3) How to present your case in the best possible light. He explains which technical terms to use, when to bring in an expert—even when to send the letter via regular mail or certified.
• Over 80 sample letters to follow, each proven to be effective. Change the pertinent details and use the letters as are, or follow them as loose templates.