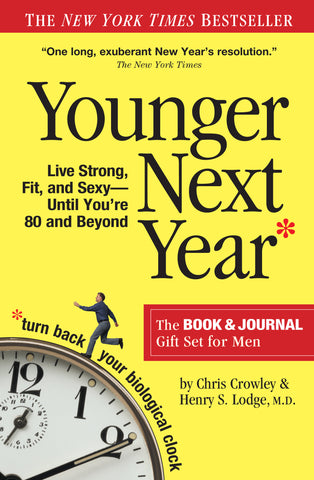 Younger Next Year Gift Set for Men
The gift to give others. The gift to give yourself. The gift that combines a bestselling program for becoming younger and healthier with a full-fledged 52-week journal that makes it easier to change your life, bringing planning, record- keeping, and motivation to the equation. For gym-goers who haven't yet bought the book, for the fitness-minded, for husbands and wives making a commitment to one another—for anyone looking to turn back the biological clock and live fit, strong, and sexy into their 80s and beyond—it's exactly the right gift.

Younger Next Year: The Book & Journal Gift Set for Men combines The New York Times bestseller Younger Next Year with an edition of the Younger Next Year Journal.  The book is "brain-rattling, irresistible, hilarious. If you're up for it . . . [it] could change your life"—The Washington Post. It shows how to become functionally younger through a program of exercise, diet, and emotional connection, and continue to live to the end of your years with newfound vitality and pleasure. The fill-in journal is the right companion to keep track of the Younger Next Year program.