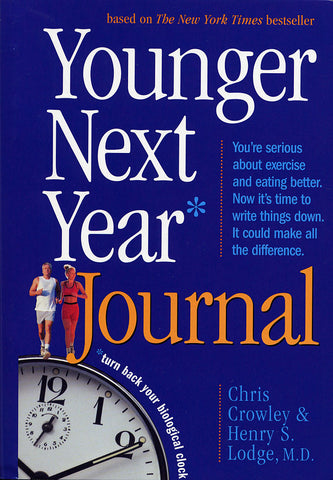 Younger Next Year Journal
People are serious now. They're going to the gym and changing their diets. Hundreds of thousands of people are working on turning back their biological clocks, doing the exercise that can put off up to 70% of the typical decay associated with aging and eliminate 50% of the illnesses that afflict people as they get older.

Now, to make that promise even easier to achieve, comes the Younger Next Year Journal. This is a needed recordkeeper for every trip to the gym, or better yet, bike vacation or ski trip. Beginning with a short introduction to working out the Younger Next Year way—how to use a heart rate monitor, why keeping a journal is important, how to look at exercise as your new job—here is a 224-page fill-in book with prompts that help you keep meticulous track of your workouts, your heart rate, your diet, how you feel, how you've reached out to others, and more. In addition, the journal is filled with motivational tips from Chris Crowley—don't skimp on leg weights, treat yourself to the best equipment, how to get your Significant Other to work out with you—and medical Q&A's from Dr. Henry Lodge, covering the science of aging, low-fat diets, and more.