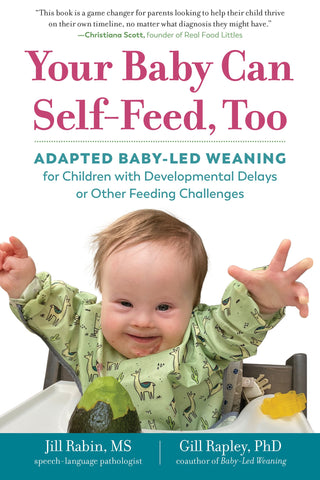 Your Baby Can Self-Feed, Too
No matter what challenges they face, your baby can self-feed, too!
One in four children has feeding challenges and difficulty eating. If your child is one of them, mealtimes may be a struggle. Whether the reason is neurodiversity (such as Down syndrome), feeding aversion, or a medical condition, feeding therapist Jill Rabin and baby-led weaning pioneer Gill Rapley are here to help with a groundbreaking new approach for parents, caregivers, and health professionals alike:
adapted
baby-led weaning (ABLW). Find out how to:
Respond to your baby's signals and appetite—and trust their abilities.
Improve your baby's chewing, posture, sensory development, and fine motor skills.
Use "bridge devices," like silicone feeders, to encourage independent eating.
Support your baby to eat real, healthy food and enjoy mealtimes with the rest of the family.