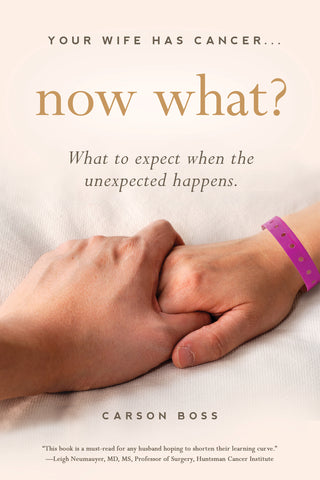 Your Wife Has Cancer, Now What?
When your wife is diagnosed with cancer, there is a lot of information to read and review. You get overwhelmed with pamphlets, books, and binders that discuss her type of cancer. There are support groups, hotlines and other organizations to assist her. But what about you? Written from the experienced perspective of someone who went through his wife's cancer, Your Wife Has Cancer, Now What? provides a practical overview of what you, as husband and best friend, need to know.

Your Wife Has Cancer, Now What? includes information on how to overcome the shock and fear of diagnosis, how to talk to your family, choosing the right doctors, where and how to give support, the transition of normal household duties and how to manage those, the real costs of cancer both financial and emotional, how to continue and nurture your romance, how to manage your full-time job and other long-term issues that are critical to know and navigate.