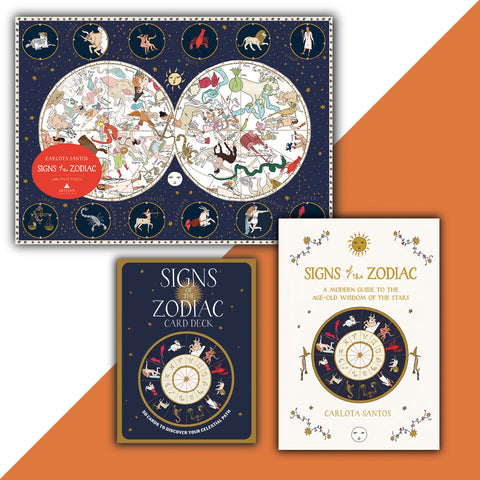 Zodiac Bundle
Website Exclusive book, card deck, and puzzle set.

Take a journey of self-discovery through the insights of the zodiac.

In this book, card deck, and jigsaw puzzle, author and artist Carlota Santos is your guide on an astrological journey, sharing her celestial knowledge on everything from the relationships between planets and their rulers to the phases of the moon, from ascendents and descendants to the twelve houses. With the book and card deck, discover zodiac sign profiles, personality summaries, compatibility charts, and the structure and story behind each sign. Read a full profile of your sign, and those that you're most compatible with. Discover the tarot card, amulets, and ritual that reflect, nurture, and balance the traits of each sign. The deck includes 50 winsomely illustrated cards. The Signs of the Zodiac 1,000-Piece Puzzle is a beautifully illustrated puzzle includes an art print; the finished puzzle measures 26 3/8" x 18 7/8".